Cork Top 5: Enchanting Eateries
Cork is the Culinary Capital of Ireland. Though it's population of 120,000 is dwarfed by the million plus in Dublin, it's the undisputed hub of the Irish food scene.
Cork boasts the English Market, which is easily the nation's best food market; Ballymaloe Cooking School, Cafe and Organic Farm, home of Darina Allen's food empire, and a wealth of excellent small food producers.
As you might imagine, there are a lot of great restaurants to choose from. Here's a few worth checking out: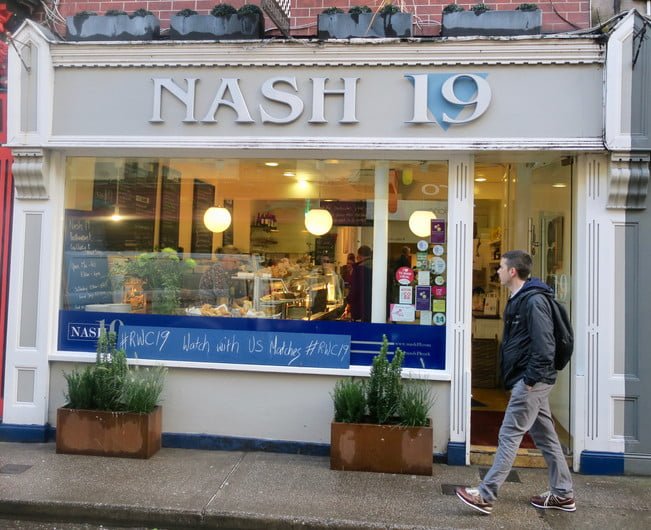 1.) Nash 19 serves one of the best breakfasts in Ireland. The ingredients are locally sourced, the outstanding bacon and black pudding come from McCarthy's of Kanturk.
I had to try the famous black pudding, but I wasn't ready for a "full Irish" breakfast. So I ordered the vegetarian poached egg and avocado on toast and a side order of black pudding. I sort of expected the black pudding to come on a separate plate, but, to my delight, the chef tucked the fried black pudding into the lovely presentation which also featured salsa, snow pea shoots and a lime wedge.
Now that's a modern Irish breakfast.
2.) Izz Cafe is owned by a Palestinian immigrant family and as you might expect, the vibrant flavors of that region shine through in everything they serve. The main attraction here is a Middle Eastern flatbread called manaeesh, which can be baked with a variety of toppings. We tried the tasty falafel version.
But the best thing to get here is the "Taster Plate," a mezze assortment that includes three flavors of hummus, tabouli, stuffed grape leaves, peppers and a stuffed eggplant.
3.) Casanova Gelato a few doors down from Izz Cafe on George's Quay. It's the first real Italian gelato stand in Cork and its owned by an Italian couple who promise to serve authentic Italian gelato with all-natural local ingredients. The combination of outstanding Irish dairy with artisan Italian ice cream making techniques results in something very special.
4.) Paradiso is such an outstanding restaurant that you sometimes forget it's vegetarian. The dinner menu offers 3 courses: starters, mains and desserts.
For starters we got a vegetable sushi and tempura combo, and a plate of 3 canelloni in a stunning jalapeño lime cream sauce. Grilled baby artichokes with a broadbean risotto was one of our mains, the other was deep-fried squash blossoms stuffed with ricotta and pea puree. The jalapeño cream sauce and the stuffed "flor de calabaza" were reminiscent of some of our favorite flavors from Mexico.
5.) Farmgate Cafe is located on the second floor of the English Market. The chefs prowl the market stalls downstairs for the best in seasonal produce, meats, seafood and other local treats and then transform them into stunning meals in the kitchens upstairs. Talk about fresh and local!
There's a counter service cafe where you stand in line to order coffee, tea, baked goods, soups and sandwiches. And there's also a famous full service restaurant.
Reservations are required for the sit-down restaurant, but luckily I got one at the last minute. 1 pm is considered lunch time in Ireland, and the restaurant was fully booked then. But there were plenty of seats available at the unfashionably early hour of 12 noon.
We got three courses, a sensational starter of creamed chicken liver on toast. A lovely cod in celeraic puree and a big, meaty braised lamb shank. We washed these down with a half carafe of Albarino and a little Tempranillo.
Put this one on your must-try list.